Grand launch of True Buddha Foundation exclusive art collection featuring prints of scroll paintings of the Twelve Auspicious Goddesses

To receive prints of scroll paintings of the Twelve Auspicious Goddesses, kindly support the True Buddha Foundation Infrastructure Fund by registering as a sponsor. Let's join hands and together turn the True Buddha Dharma wheel to preserve and uphold the lineage of the True Buddha School for all time.

His Holiness Living Buddha Lian-sheng Sheng-yen Lu, a Dharma King and talented writer with great wisdom, has published more than 288 books. Grandmaster is also a painter and calligrapher who perfectly integrates spirituality, and Buddhism in his artworks.

Grandmaster's paintings reflect an extensive variety of themes ranging from purely abstract creations to people, landscapes, still-lifes, flowers, birds and animals. In particular, Grandmaster's amazing paintings of buddhas, bodhisattvas, arhats, and goddesses can only be described as a feast for the eyes.

By virtue of a predestined affinity with sentient beings, Grandmaster has created a series of scroll paintings featuring the Twelve Auspicious Goddesses. The merit of each goddess is extraordinary and inspiring!

The merits of the Twelve Auspicious Goddesses:
The Mahasri – guards a clan and protects the good fortune of a country.

The Sri – guards auspiciousness of an individual or a family

The Propitious Goddess – causes every encounter to be good.

The Great Title Goddess – bestows worldly great title.

The Magnificent Brilliance Goddess – bestows good fortune, all wishes fulfilled, and bright deeds.

The Lotus Flower Stately Adornment Goddess – bestows high moral character, purity, brilliance, and beauty

The Wealth Gathering Goddess – bestows wealth along with giving.

The Treasure Light Goddess – bestows treasure into one's home.

The Lotus Eye Goddess – bestows inner peace, calmness, and purity.

The White Goddess – eliminates disasters and calamities.

The Food Bestowing Goddess – provides food security.

The Drink Bestowing Goddess – provides drink security.

In response to requests from disciples and devotees, the True Buddha Foundation (TBF) is launching an exclusive release of art prints featuring Grandmaster's paintings of the Twelve Auspicious Goddesses. Sentient beings blessed with predestined Dharma affinity are invited to register as sponsors of the TBF Infrastructure Fund to receive prints of these scroll paintings. Let's join hands and turn the True Buddha Dharma wheel so that together we may uphold and preserve the True Buddha School lineage for all time!

#Art prints featuring scroll paintings of the Twelve Auspicious Goddesses
There are several options available to demonstrate one's generosity. Take advantage of this rare opportunity to enhance one's blessings, increase meritorious rewards, eradicate misfortune, eliminate evil, and annihilate karmic hindrances!

#TBF will reverently invite Dharma King Lian-sheng to bless the list of sponsors during the Mahasri Homa Ceremony on May 15, 2022.

【268 Benefactor Program】
One print of a Mahasri scroll painting – USD268
One print of a Mahasri scroll painting + 2 additional prints (total 3 prints) – USD750
One print of a Mahasri scroll painting + 5 additional prints (total 6 prints) – USD1,200
Follow this link to select your sponsorship: https://tbsfoundation.com/tbsbn/site/purchase

Group discounts are available for multiple prints of Mahasri:
Sponsor 10 prints of Mahasri at USD2,000
Sponsor 30 prints of Mahasri at USD 5,400
Sponsor 50 prints of Mahasri at USD8,400

To sponsor the complete set:
USD 2,200 or NTD 65,000

Follow this link to select your sponsorship: https://tbsfoundation.com/tbsbn/site/grouppurchase

Size: 865mm(L) x 380mm(W)
Material: P-Tex non-woven fabric (environmental friendly certified, bacteriostatic, non-toxic, and name-brand ink)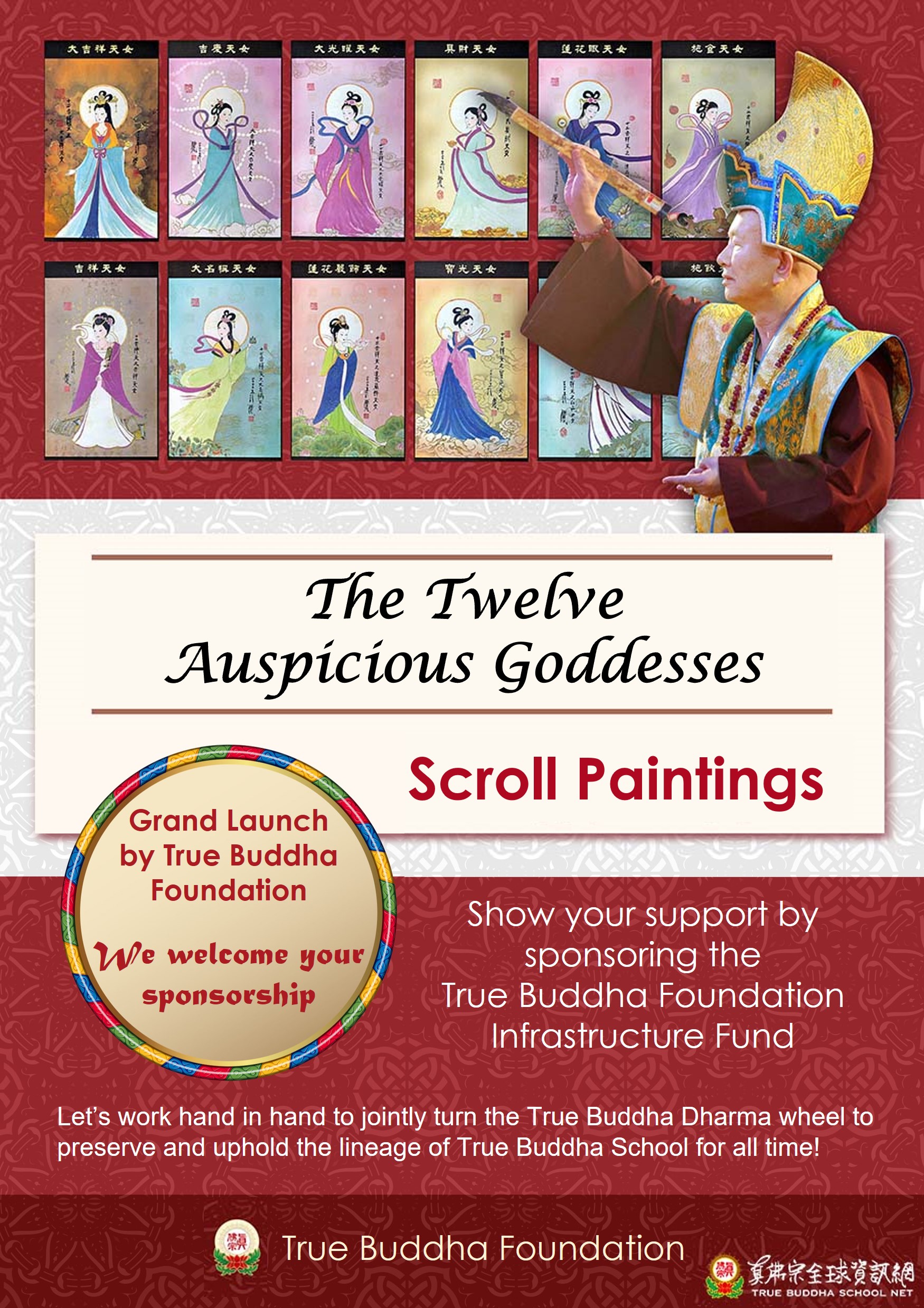 Translated by TBTTs
Translator: Lynn Ang
Editors: Henry Wolf and DJ Chang