True Buddha Foundation 7th Term Dharma Assistant Selection Announcement
Date:2022/02/04 00:00(Taiwan time)
【True Buddha Foundation Dharma Affairs Announcement】
True Buddha Foundation 7th Term Dharma Propagating Personnel Dharma Assistant Selection Announcement
TBF-DA Selection No. 001
Following a discussion of proposals concerning selection of 2022 True Buddha School Dharma Assistants presented at the Jan. 19, 2022 True Buddha Foundation (TBF) Core Committee Conference, the following resolution was adopted: TBF will convene the selection of 7th Term True Buddha School (TBS) Dharma Assistants.
Registration Date: Now until Mar. 31, 2022 Seattle time. Registrations will not be processed after this date.

Selection method and date: Selection interviews will begin on July 9, 2022 via online video. Interview dates will be scheduled and announced based on candidate time zones and regions.

Requirements for Dharma Assistant interview recommendations: candidates must have attended and passed the first phase 2021 training class of TBS Introductory and Training Course for Incumbent and Future Lay Dharma Propagators and the second phase training in 2022. Candidates who missed the phase one training curriculum must participate in the phase two training session, and make up the phase one coursework and tests within six months.

Language options for Dharma Assistant selection examination: Chinese, English, and Indonesian. Candidates must select one of these three languages in Question 7 of the Questionnaire for Dharma Assistant Candidates.

Candidates should reference the attached Selection Guidelines for 2022 7th Term Dharma Assistants. Those who intend to apply should complete the Application for Dharma Assistant, Questionnaire for Dharma Assistant Candidates, and other required documents set out in the Selection Guidelines for 2022 7th Term Dharma Assistants.
We welcome all TBS cultivation venues to enthusiastically recommend highly qualified candidates for participation in the Dharma Assistant selection process!
Best Regards,
True Buddha Foundation
Feb. 1, 2022
To download relevant documents:
2022 Questionnaire for Dharma Assistant Candidates
2022 Application for Dharma Assistant
Selection Guidelines for 2022 7th Term Dharma Assistants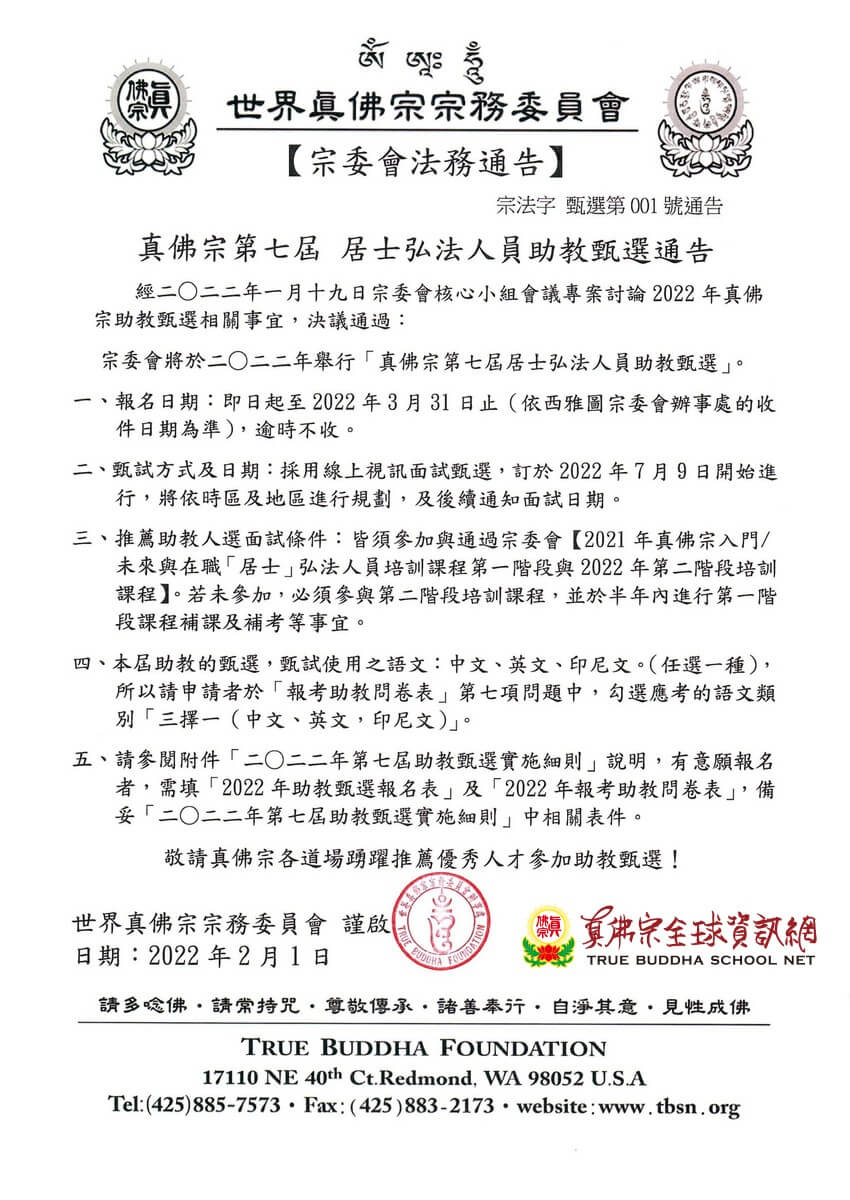 Translated by TBTTs
Translator: Henry Wolf
Editor: DJ Chang