New Services Provided by True Buddha Foundation
Date:2021/05/28 00:00(Taiwan time)
【True Buddha Foundation Announcement】
True Buddha Foundation Officially Launches New Services Via Cell Phone + LINE + WhatsApp
Amitofo! How is everyone!
In order to better serve Dharma propagators and disciples in cultivation venues worldwide, the True Buddha Foundation (TBF) has launched two lines featuring dedicated online service personnel. The two new lines are "宗委會辦事處[TBF]-1 TBF-SEA" and "宗委會辦事處-2 TBF-TWN".
Cell phone + LINE + WhatsApp service description:
What are the features of these two service lines?
America, Canada and Europe Time Zones:
Name:

宗委會辦事處-1 TBF-SEA
LINE ID: tbf-seattle
WhatsApp phone number: +1-6047266518
Asia and other time zones:
Name:
宗委會辦事處-2 TBF-TWN
LINE ID: tbf0965352639twn
WhatsApp phone number: +886-965352639


A: The above cell phone numbers, which are associated with LINE and WhatsApp accounts, have network communication functions. They are intended to provide users with more service features.
What services will these lines provide?
A:
These two lines operate as a centralized service desk. Dedicated personnel answer questions, and if necessary, refer questions to a relevant unit for further processing.

Answer questions regarding events launched by TBF.

TBF will release officially authorized notices and information through these communication channels.
Do these lines provide blessing-request letter service?
A:
These two accounts do not provide inquiry services for blessings and spiritual consultation.

Letters concerning spiritual consultation or requiring a reply should be mailed to the Seattle Reply Center. For inquiries, contact the reply center at 1-425-885-7573.

Prayer letters which only require Grandmaster's blessing should be emailed to tbsblessing@gmail.com

In case of emergency, please fax your request for blessing to1-425-883-2173
Are the services 24 X 7? Or, are they limited to certain fixed hours?
A:
Users in US, Canada, and Europe time zones please contact "宗委會辦事處-1 TBF-SEA"。

Users in Asia and other time zones please contact "宗委會辦事處-2 TBF-TWN".

Service hours: For service via mobile phone, please follow the normal daily schedule of the Western or Asian time zones. Internet communication is currently dominated by two major Apps: WhatsApp and LINE. There is no fixed time for voicemail or text messages. However, messages received after working hours will not be answered until the following day.
Please add these four group accounts to your friends list. TBF will provide wholehearted service as required!
Best Regards,
True Buddha Foundation
May 27, 2021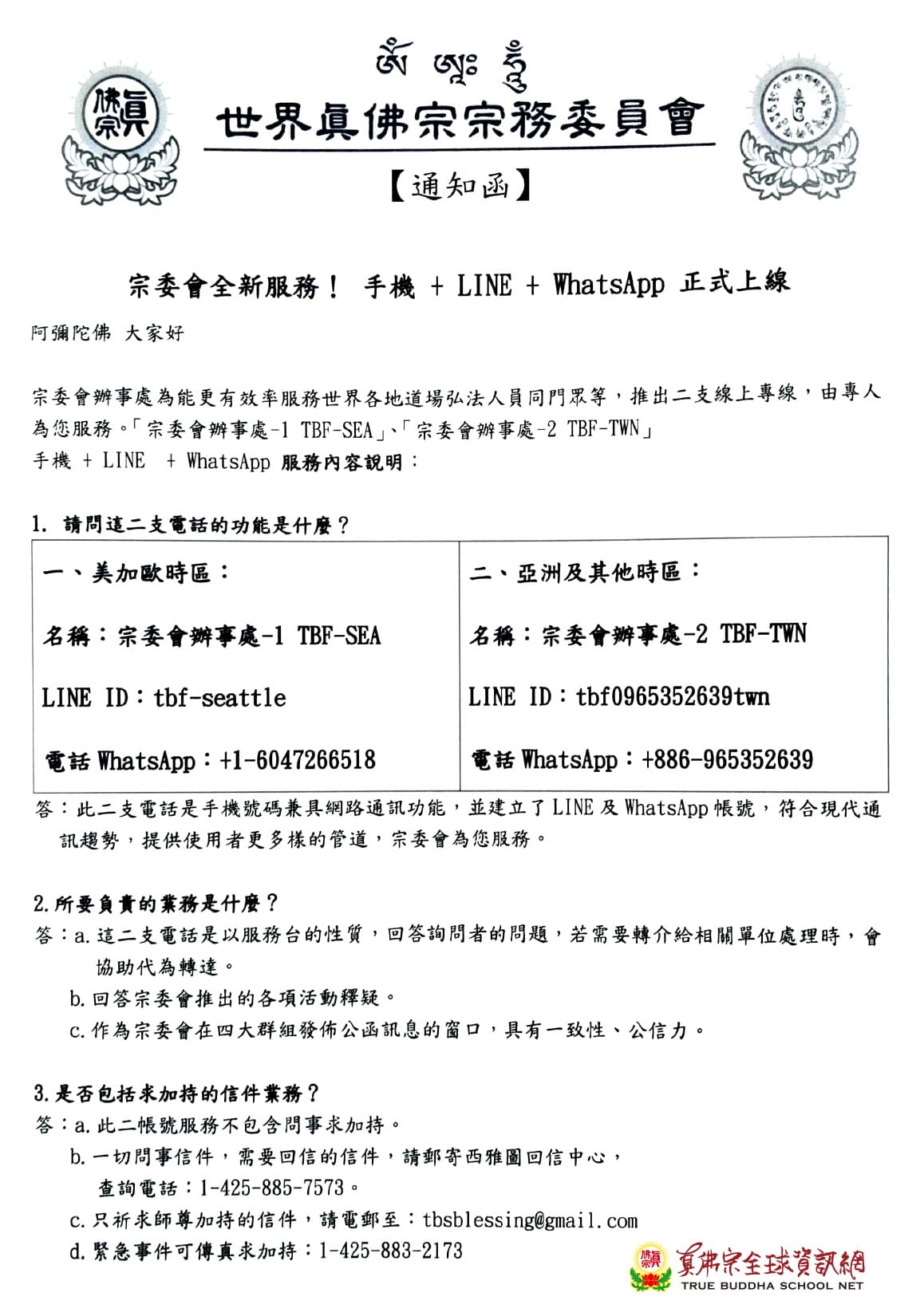 Translated by TBTTs
Translator: DJ Chang
Editor: Henry Wolf