Notice of the 5th Term True Buddha Foundation Directors and Members Change
Date:2021/04/17 00:00(Taiwan time)
【True Buddha Foundation Notice】

TBF-Mem # 001

Notice of the 5th Term True Buddha Foundation Directors and Members Change
On March 30, Master Shi Lianyin (蓮印), the Director of Finance of the fifth term True Buddha Foundation (TBF) Core Committee, tendered his resignation due to health issues. Resolutions of TBF Core Committee meetings held on March 31 and April 14:
In accordance with TBF by-laws governing appointment and resignation of directors and members, TBF has accepted the resignation of Master Lianyin as Director of Finance effective immediately.

The Chairman and Directors of the TBF Core Committee sincerely thank Master Lianyin for his past service as a Director, wish him a speedy recovery and, above all, a safe and auspicious life.

Changes of directors in the fifth term Core Committee are as follows:
Previous Director of Public Relations Master Shi Liantai (蓮太) is appointed Director of Finance
Master Shi Lianjiu (蓮舅) is appointed Director of Public Relations

Changes of members in the fifth term TBF are as follows:
Master Shi Lianzhu (蓮祖), previous member of the Public Relations Department, is now a member of the Supervisory Department.
Master Lianmiao (蓮妙) is appointed as a member of the Public Relations Department.
The above appointments are effective immediately.

TBF will work hand in hand with disciples to carry out the mission of the True Buddha School while building the foundation of a strong future. Let's accomplish Buddhahood together!
Amitofo!
Best regards,
True Buddha Foundation
April 14, 2021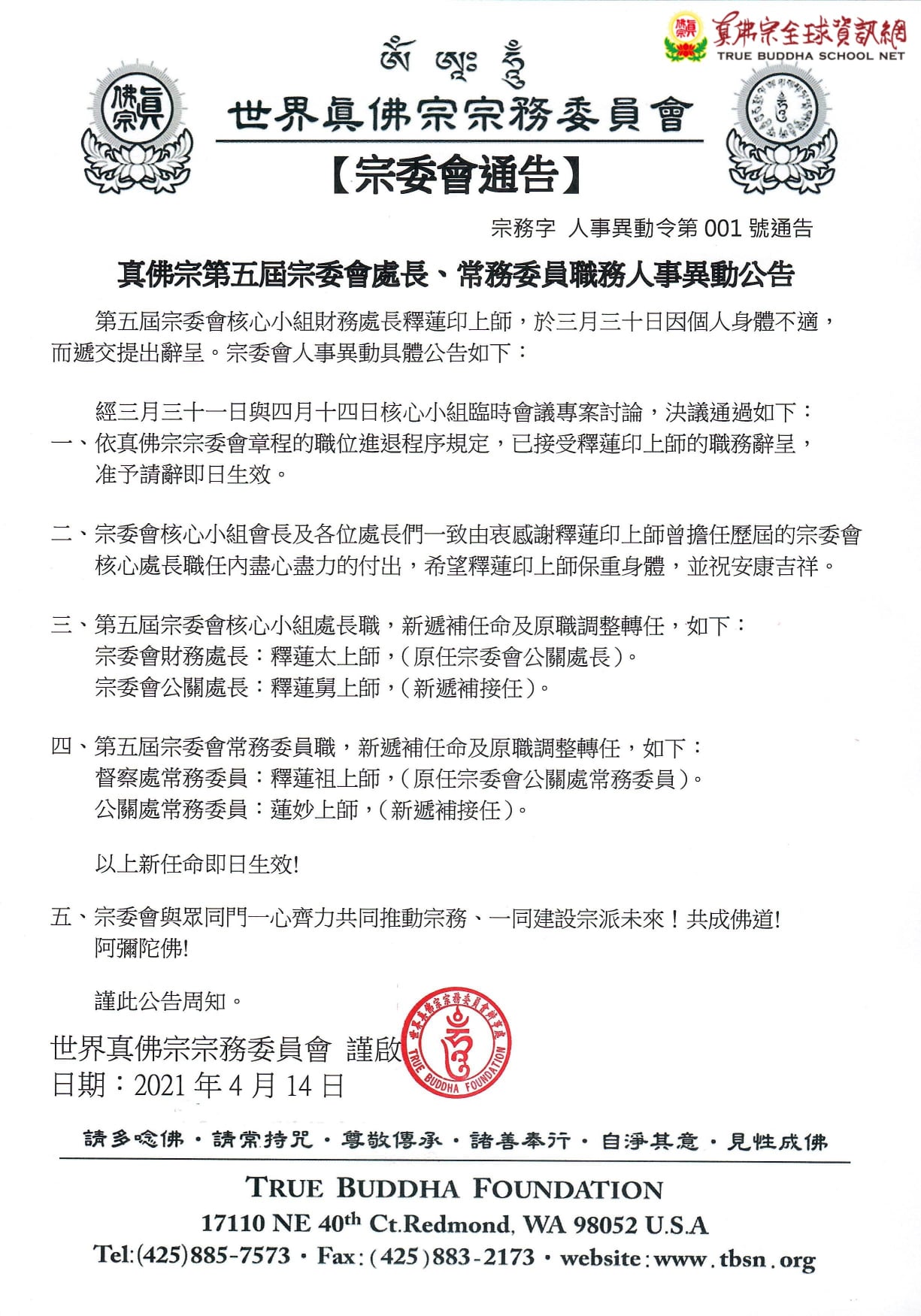 Translated by TBTTs
Translator: Lynn Ang
Editors: Henry Wolf and DJ Chang