True Buddha Spirit, Lotus Light Love and Compassion
Where the Warmth of the Lotus Light Goes, Love and Kindness Follows

Celebrating Grandmaster's 78th Birthday with a global feast offering ceremony to offer love and prayers


Wishing the Dharma King a Happy Birthday & Sending Love to All Corners Far and Wide
True Buddha School Lotus Light Charity Society (LLCS) will launch the annual Global White Rice Donation Event a month ahead of the birthday of TBS Founder Dharma King Lian-sheng, which falls on the 18th day of the fifth lunar month, 2022 ( June 16), and will continue the event until the end of the birthday month.

Jointly organized by worldwide branches of LLCS in Taiwan, Singapore, Malaysia, Indonesia, Australia, Japan, the UK, Canada, and other places, this event involves the distribution of white rice and other necessities to socially disadvantaged groups. In this way, we celebrate H.H. Living Buddha
Lian-sheng's birthday by spreading love and compassion to all corners of the world.

Wherever there is suffering and difficulty, lotus light is there
In the year prior to this 2022 public welfare activity of Global White Rice Donation, while the world was being devastated by the pandemic, floods, wars, and sluggish economy, LLCS hastened to meet the needs of people in distress all over the world by launching various rescue operations and charitable donations.

We hope that, upon hearing of sentient beings' suffering, we can relieve their hardships. We also hope to devote more heartfelt effort to the core vocations of charity, healthcare, education, culture, and hospice care, thereby carrying out the spirit of Dharma King Lian-sheng's shouldering the burdens of sentient beings and taking on this responsibility with courage. We look forward to the support of those who are destined to join us in helping all sentient beings.

We respectfully invite you to get in touch with your local LLCS and join in with those who are doing good for others-let your love come forth.

Leadership Units
True Buddha Foundation
Lotus Light Charity Society

Lotus Light Charity Society Branches
Malaysia
Indonesia
Vancouver
Singapore
Sydney, Australia
Melbourne, Australia
Osaka, Japan
London, England
Corporate Entity in R.O.C.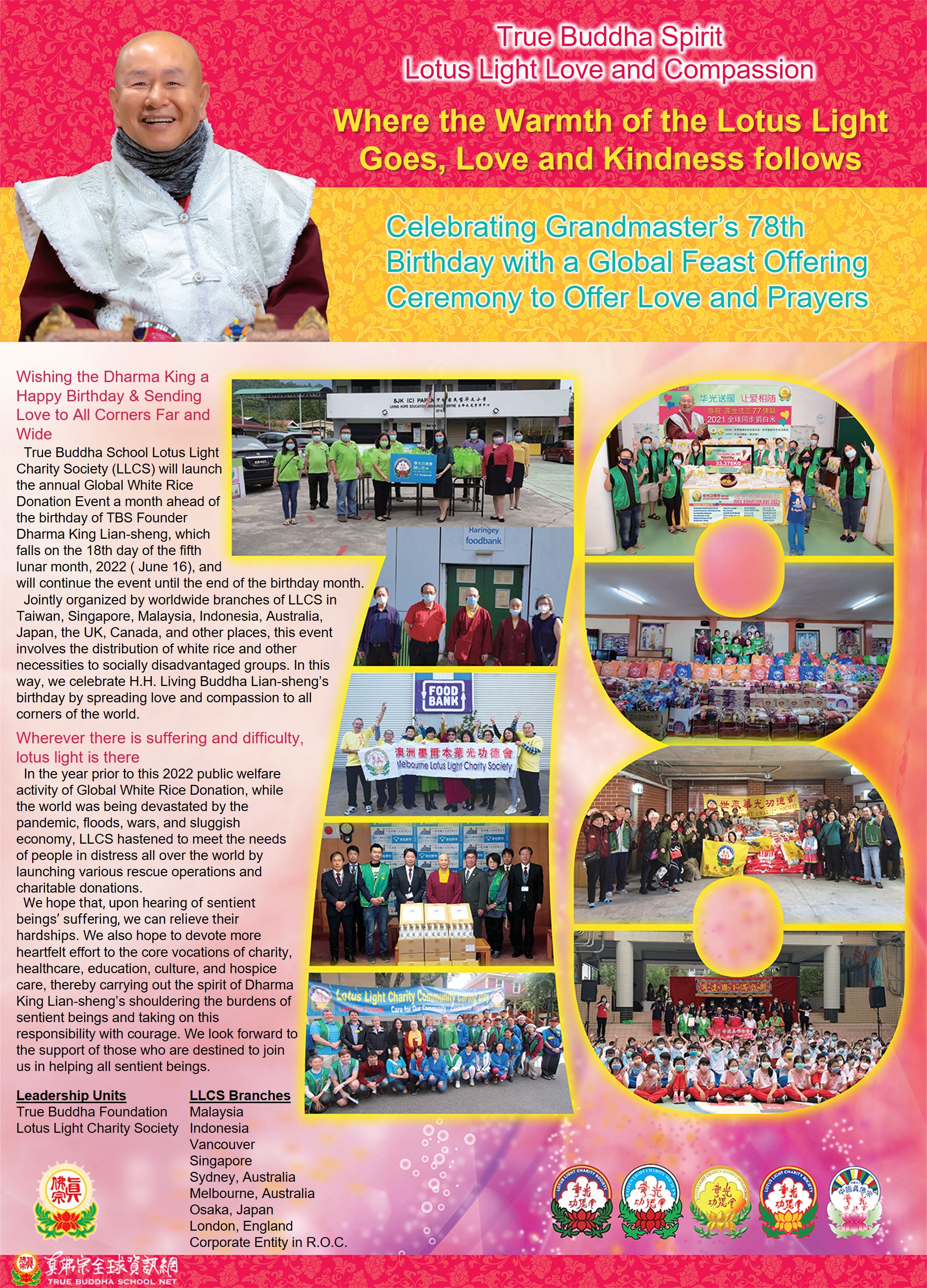 Translated by TBTTs
Translators: Lynn Ang and Henry Wolf
Editor: DJ Chang