Seattle Ling Shen Ching Tze Temple respectfully invites Root Guru His Holiness Living Buddha Lian-sheng to preside over the 2022 Grand Spring Blessing Ceremony
Transmission: Jade Pond Golden Mother Instant Wealth Practice
Empowerment: Jade Pond Golden Mother Uncommon Practice, Instant Wealth Practice, Eight Great Practices
Ceremony: Grand Spring Avalokitesvara Bodhisattva Blessing Ceremony

Date: February 12, 2022 at 3:00 PM(Doors open at 1:00 PM)

Location: Lynnwood Convention Center, 3711 196th St SW, Lynnwood, WA 98036
Welcome everyone to register and attend the ceremony so that all will benefit from this Dharma event and bathe in the buddha's brilliance!

Note:
Primary Supplicant Package

As a token of appreciation, participants who register as Primary Supplicants by donating US$700 will receive:

A khata (for the benefactor to make a khata offering to Grandmaster on the day of the ceremony).

Assigned sitting in the main hall of the ceremony.

Sponsoring method: one may sponsor via Paypal, check, credit card, bank remittance, traveler's check, cash, etc. The title of the payee is Ling Shen Ching Tze Temple (LSCTT).

Booths responsible for primary supplicant registration:

The first green building on the tiger side of LSCTT. Starting 1/28/2022 (Fri.), Mon.-Sat. 2:00 PM - 7:00 PM.

On the day of the ceremony, the ceremony venue will have a dedicated registration booth starting from 1:00 PM.

One may also register by mail or email with a $700 check or proof of remittance attached, along with the Primary Supplicant Registration Form.

For details, please refer to Ceremony Primary Supplicant, registration forms, and sponsoring method:
https://www.tbsseattle.org/english/content/view/14/30/lang,en/

On the day of the ceremony, prior to entering the ceremony grounds, disciples and devotees must present either a valid COVID-19 certificate of full vaccination or a negative COVID-19 test report issued within 72 hours prior to the ceremony (that is, issued after 3:00 PM on Feb. 9, 2022) . COVID-19 health documents of all in-state, out of state, and foreign attendees will be examined by on-site personnel.

Please mail registration forms to:
Check Title: Ling Shen Ching Tze Temple
Address: 17012 NE 40th Ct., Redmond WA 98052 U.S.A.
Tel: (425) 882-0916
Fax: (425) 883-7360
Website: https://www.tbsseattle.org/english/
Facebook: https://www.facebook.com/tbsseattle.org/

Due to a manpower shortage,
LSCTT will not provide any meals on Feb.12-13. We apologize for the inconvenience.


Best Regards,
Seattle Ling Shen Ching Tze Temple
Jan. 26, 2022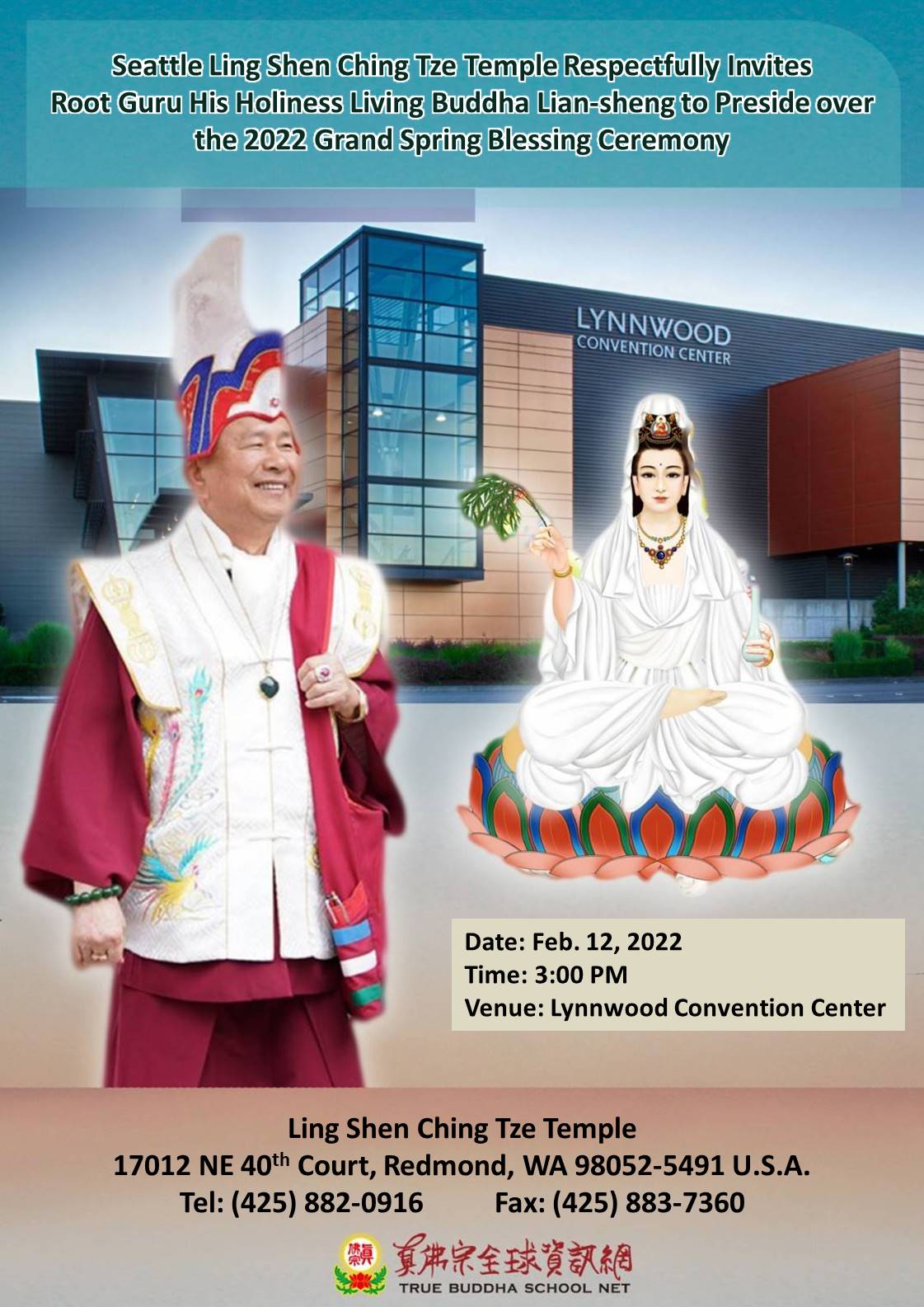 Translated by TBTTs
Translator: DJ Chang
Editor: Henry Wolf