True Buddha Foundation Networking Workshop in Europe
Date:2020/11/25 Venue:Zoom Conference 10:00(Taiwan time)
【True Buddha Foundation Notification】
True Buddha Foundation Networking Workshop for Darong Publishing in France,
All Levels of Dharma Propagation Personnel,
and Principals of Cultivation Venues in Europe
Subject:On December 14 – 15, 2020, the True Buddha Foundation (TBF) will hold a networking workshop for Darong Publishing in France, all levels of Dharma propagation personnel, and principals of cultivation venues in Europe. All relevant personnel are cordially invited to register for the workshop.
Date: December 14-15 (Mon~Tue)

Time: 7:00pm – 9:00pm (Europe time); 6:00pm - 8:00pm (U.K. time)

Location: Zoom Conference

Registration link: https://forms.gle/G3eoWaAHAt9nVjFq9

Participants: All levels of Dharma propagation personnel and principals of cultivation venues in Europe.

Workshop Agenda:


Business reports by TBF departments.

Discussion of challenges faced by cultivation venues and Dharma propagation personnel in Europe.

Interactive exchange on how cultivation venues can widely propagate True Buddha Tantra, create public awareness and involvement, and improve support and recognition in society.

How True Buddha School (TBS) cultivation venues can establish a local presence and uphold the TBS lineage.

Status update by Darong Publishing on promotional activity for Grandmaster's corpus; discussion of accomplishments and upcoming goals.

TBF evaluation of workshop suggestions and recommendations.
Best regards,
True Buddha Foundation
November 25, 2020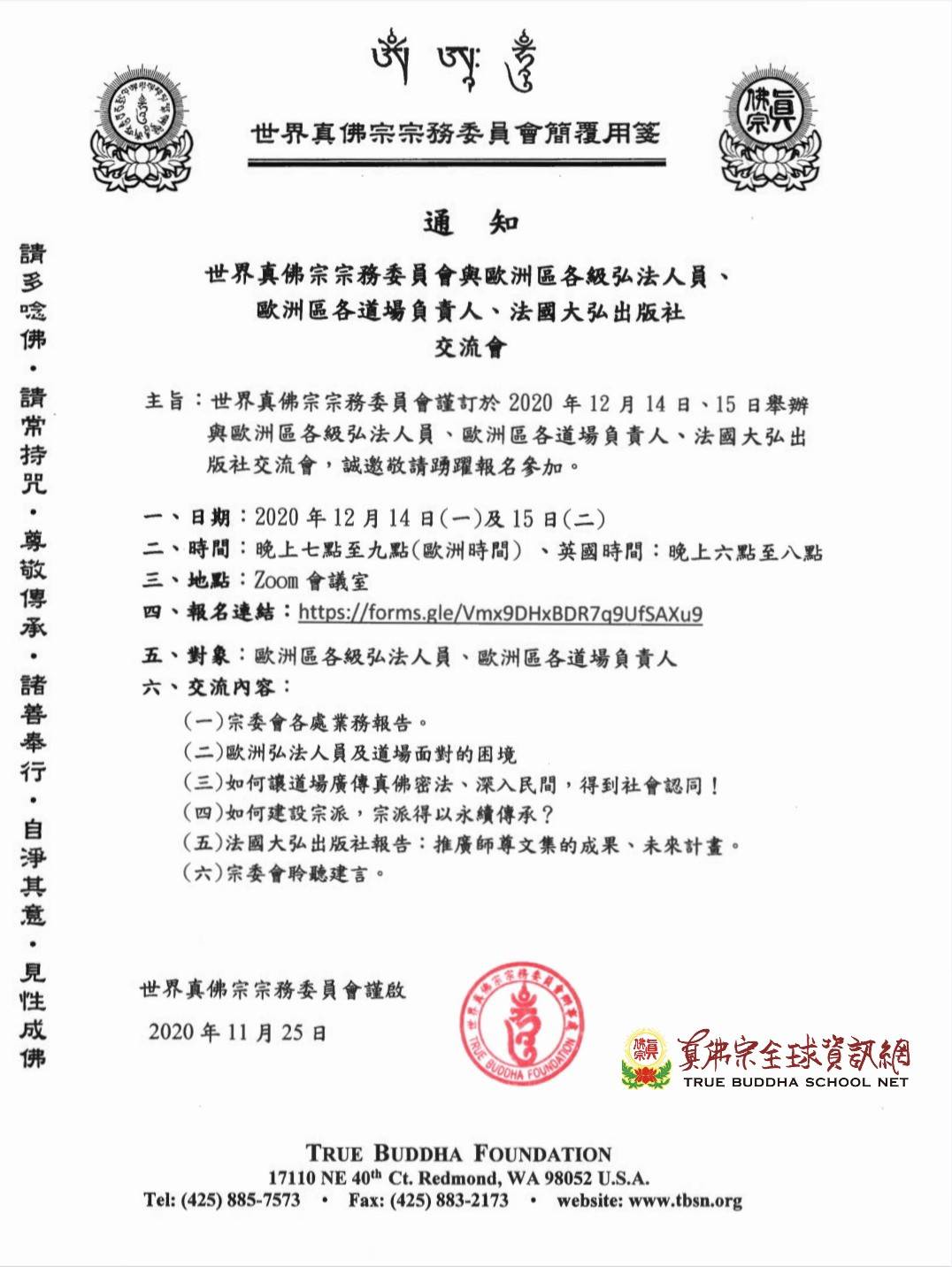 Translated by True Buddha Translation Team
Translator: Lynn Ang
Editor: Henry Wolf and DJ Chang