On Sept. 12, 2020 Seattle Ling Shen Ching Tze Temple Will Hold a Group Cultivation of Amitabha Buddha Personal Deity Practice and Calamity Eradication, Blessing, and Bardo Deliverance Ceremony
《Seattle Ling Shen Ching Tze Temple Report》
Seattle Ling Shen Ching Tze Temple (LSCTT) has respectfully invited Root Lineage Guru Living Buddha Lian-sheng to hold a smaller scale Calamity Eradication, Blessing, and Bardo Deliverance Ceremony on Sat. evening, Sept. 12, 2020. That same evening, there will also be group cultivation of Amitabha Buddha Personal Deity Practice, along with recitation of the Amitabha Sutra and recitation of Amitabha Buddha name. Devotees are welcome to register for the ceremony by mail, fax, or email to bathe in the Dharma joy of the ceremony, and receive its tremendous benefits. Following the ceremony, Grandmaster will compassionately bestow the blessing of Amitabha Buddha.
LSCTT will strictly adhere to government mandated COVID-19 protective measures, namely to limit assembling inside the temple and on the temple grounds. In addition, marriage blessing, bestowal of lay bodhisattva precepts, ordination precepts, or other ceremonies will not be held. Also, there will be no registration of primary supplicants of the ceremony, and there will be no transmission of a new primary deity or bestowal of empowerment. The LSCTT library building will not serve meals to the public, and LSCTT will not provide stayover service. We are sorry for any inconvenience this may cause.
We are infinitely grateful for the Root Guru's compassion in holding the Sept. 12 Amitabha Ceremony and blessing all the registered participants for bardo deliverance, calamity eradication, and good fortune. The ceremony will bestow the Buddha's light and protection on all the beings of this world, provide netherworld beings with bardo deliverance to the pure land, and benefit both the living and the deceased to be free of suffering and obtain joy and happiness.
LSCTT Address:
17012 NE 40th Court, Redmond, Washington U.S.A. 98052-5491
E-mail: webmaster@tbsseattle.org
Telephone: (425) 882-0916
Fax: (425) 883-7360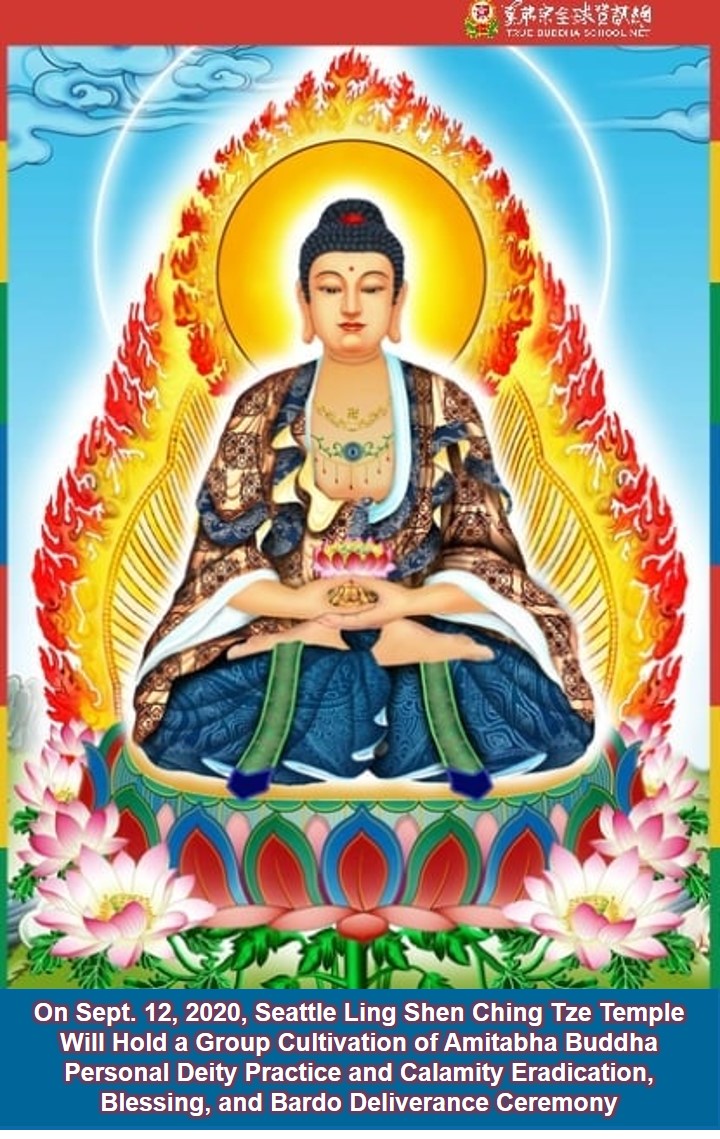 Translated by TBTTs
Translator: Henry Wolf
Editor: DJ Chang