True Buddha Foundation Reminds True Buddha Disciples to Exercise Caution When Entrusting Donations to Grandmaster
Date:2021/07/16 00:00(Taiwan time)
【True Buddha Foundation Notice】
True Buddha Foundation Caut-00002
True Buddha Foundation Reminds True Buddha Disciples to Exercise Caution When Entrusting Donations to Grandmaster
Due to the global impact of the COVID-19 pandemic, many countries are no longer able to efficiently operate their mail delivery systems. When True Buddha disciples, out of missing Grandmaster, feel like making a small donation to Grandmaster, or need to make a registration donation in connection with a Dharma ceremony presided over by Grandmaster, but are unable to present it personally or by mail, the True Buddha Foundation suggests that disciples ask their local cultivation venue to forward the donation to Grandmaster on their behalf. The cultivation venue will collect disciples' names and donations, remit the collected amount with the name list to Grandmaster, and request Grandmaster's blessing.
To avoid being deceived, please do not arbitrarily trust anyone who claims they can forward funds to Grandmaster on behalf of disciples. For one reason, disciples are not familiar with the credibility of the person making such claim. For another reason, disciples cannot verify whether the total amount entrusted to such person has indeed been fully transferred. We are advising all disciples to exercise extreme caution in such cases.
We thank you for your donations!
Amitofo!
Best Regards,
True Buddha foundation
July 16, 2021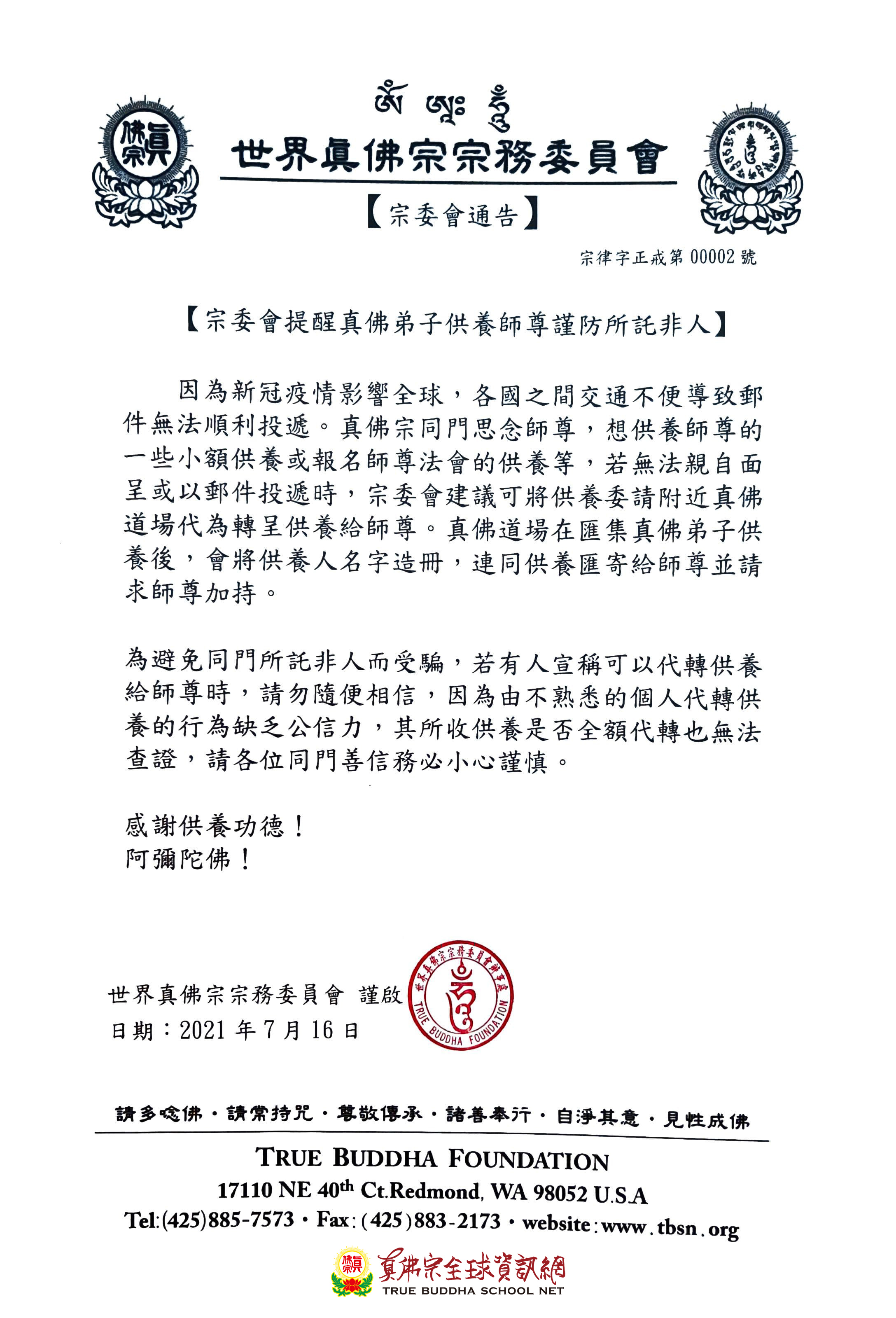 Translated by TBTTs
Translator: Henry Wolf
Editor: DJ Chang