Must-Know for Attendees of Grand Rainbow Light Transformation Practice Transmission on December 11, 2022

#How to receive admission tickets
Admission-ticket registration is now underway. Successful registrants can pick up their tickets starting November 28. An official arena admission ticket is required to enter Taipei Arena. Although tickets are free, registration by real-name is required.

Requesting Tickets:
Individual registration: To facilitate registration, please call or email Zhongguan Chapter in advance, and leave your name, phone number, and email address. After registration is completed, tickets can be picked up at the designated time.

Group registration: For advance registration, cultivation venues and tour groups should call Dharma Sister Huang or email ticket requests to Zhongguan Chapter. The information required for the reservation is the total number of tickets needed and a participant name list with each participant's name and contact number. To facilitate contacting members of the group if necessary, foreign tour groups are asked to provide the tour guide's name and phone number .

If group meal boxes are requested for the return trip, please let us know your requirements at the time of registration (100 yuan for a meat meal box; 80 yuan for a vegetarian meal box).
Please note: Individual and Group ticket registrants should pick up their tickets prior to 12/10. Admission tickets will not be issued on site.

Infants and young children will also require an admission ticket. Please inform us when requesting the ticket.

Primary supplicants: Zhongguan Chapter has reserved tickets and seats for attendees registered as primary supplicants. The time and location to collect tickets will be announced later.
*To prevent confusion, registrants are asked to refrain from re-registering for the event.

Dharma propagating personnel: Attending Dharma propagating personnel who are reverends or above please register by filling out the relevant form via the following link. Admission tickets will be distributed upon check-in at the VIP office on the day of the event.): https://docs.google.com/forms/d/e/1FAIpQLSeJThyFDG7zqsUjOjTO4wTQW40a399bagaBDAJNI1A9kzOqig/viewform

Date of distribution of tickets : Starting from Nov. 28, 2022.

Location of ticket distribution:

Zhongguan Chapter

Zhongguan Service Booth at Taiwan Lei Tsang Temple on Dec. 3, and 10.

Taipei Arena North Gate entrance on Dec. 11. This location is only for attendees who were unable to register in advance for an admission ticket. Ticket distribution begins at 1:00 PM. Tickets are limited and only available until they run out. Those who have registered in advance for group tickets and individual tickets may not obtain their tickets on site.
#Note: time and method of entrance into the arena
Beginning at 2:00PM.

Shuttle buses, public buses, and private automobiles please enter the facility through the north gate.

Tour buses and those who are not disabled please enter the facility through the south gate.

To request admittance to the area designated for wheelchairs, handicapped, and the elderly, please call Zhongguan Chapter to register in advance (limit of one companion).

Your admission ticket is required for each repeat entrance. Please carefully protect your ticket. A new ticket will not be issued to replace a lost ticket.

The event begins at 4:00PM. Entrances into the arena will be closed after 4:00. Attendees are therefore advised to be on time.

Only drinking water is allowed inside the venue. Eating inside the venue is prohibited. Attendees are asked to abide by this regulation.

#The Precious Empowerment of the Rainbow Light Transformation Practice
Because Empowerment of the Rainbow Transformation Practice is so precious, Zhongguan Chapter will design a precious khata of Rainbow Light Transformation Practice as a gift for all attending disciples and devotees.

Disciples supplicate Lineage Root Guru HH Living Buddha Lian-sheng with utmost sincerity for empowerment of the debut transmission of the Rainbow Light Transformation Practice, and pray for Grandmaster's guidance to receive the supreme wisdom of the Great Perfection.

In this wonderful, precious, and rarely bestowed Rainbow Light Transformation Practice, each segment of the sadhana and empowerment will be meticulously arranged so that disciples will obtain the most perfect Dharma joy. We thank disciples for their support. Details will be grandly published at a later date, so we are asking everyone to wait patiently.

Following the norm of Grandmaster's return, there will be no presentation of khatas, and no crown blessings by Grandmaster.

#Transportation
During the event, there will be heavy traffic and crowds around Taipei Arena. To avoid delays caused by traffic jams, please use public transportation whenever possible.

Riding Taipei Metro -> Please take Songshan-Xindian Line (Line 3) to Taipei Arena. Exit to the arena at Exit 2.

Please reference the Taipei Arena Getting Here webpage to learn how to get to the arena via transportation options.

#Accommodation and Tour Bus Service
Accommodation services: booking through https://taiwanstay.net.tw/ or booking.com.

Tour bus services: Zhongguan Chapter provides tour bus services every Saturday. Disciples can depart and return from Grandmaster's ceremonies via the Zhongguan Chapter tour bus. For reservations, please go to Tour bus reservation information
#Covid-19 Preventive Measures upon arrival in Taiwan
Seven-day period of self-initiated prevention after arrival:
In accordance with Covid-19 preventive regulations in Taiwan, on the day of arrival, each person will be given four rapid test kits and must follow the Self-initiated Prevention Guidelines. Arriving travelers must take a rapid test and produce a negative result within two days before going out. However, a face mask must be worn.

Living quarters: those passengers arriving in Taiwan on the same flight, can stay in the same hotel room; those arriving on different flights cannot stay in the same hotel room; passengers who are not traveling as part of a group, or not traveling with friends or relatives, must stay in a private room. Following seven-day period of self-initiated prevention, there are no more limitations on activity.

#Live Webcasting Service
The ceremony will be live webcast on the day of the event. Disciples worldwide are welcome to watch this ceremony live on Zhongguan website, Zhongguan Facebook, or Zhongguan YouTube Channel. There will also be a simultaneous Chinese to English translation of the ceremony. Everyone is welcome to take advantage of this service.

#Information about other activities
For information concerning the meaning of the Rainbow Light Transformation Practice, primary-supplicant programs, methods of registration, and a map of the event venue, please see the special issue of Rainbow Light Transformation Practicein Zhongguan Magazine.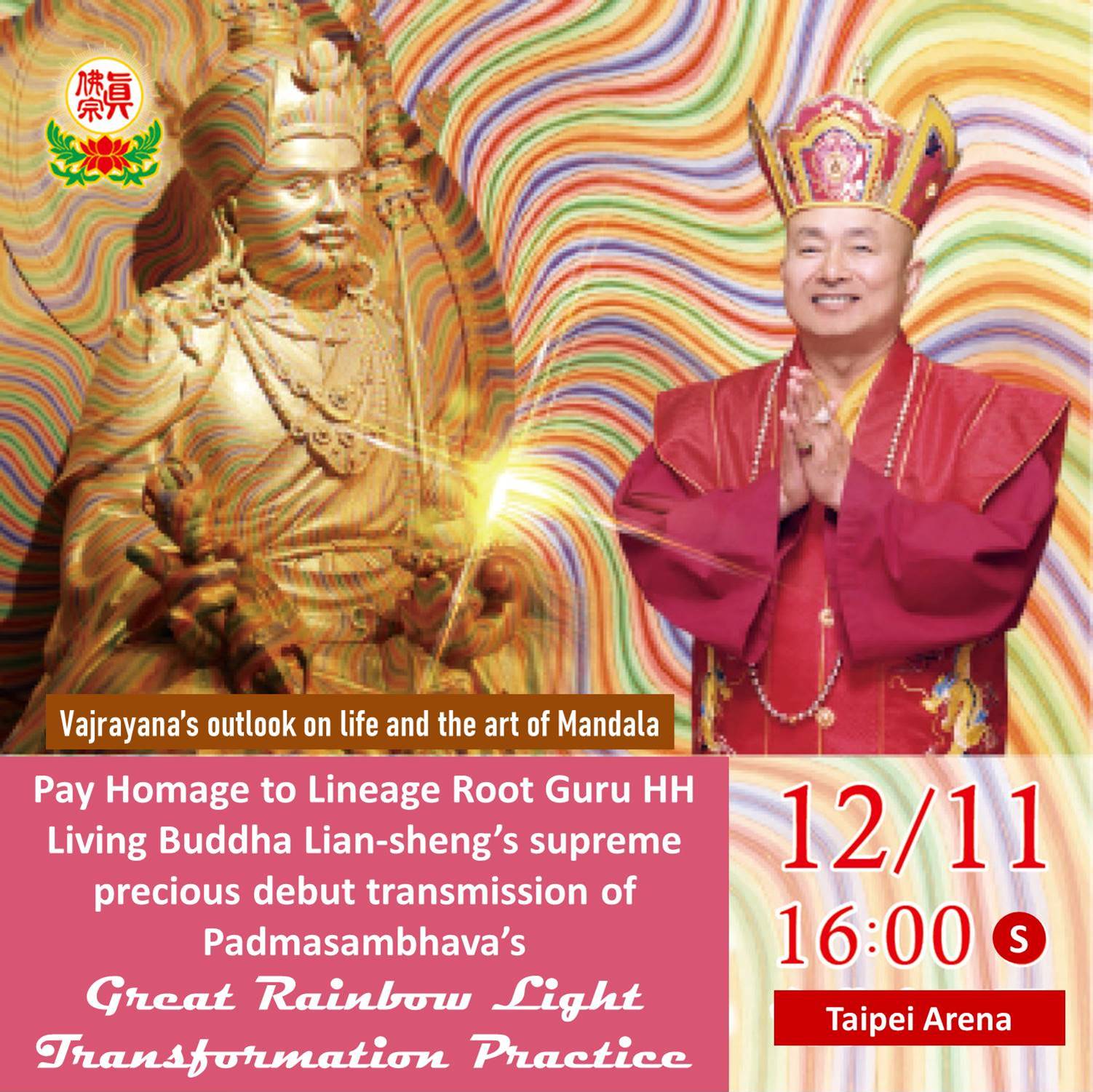 Translated by TBTTs
Translator: Henry Wolf
Editor: DJ Chang