Registration, Transportation, and Accommodation for the Dayi Temple Adversaries-Crushing Tara Ceremony on Jan. 29, 2023

True Buddha School (TBS) Dayi Temple has always had an affinity with Taras. In the past, due to the compassion of Dharma King Lian-sheng, the temple held three large-scale ceremonies for Humsvaranadinitara, Green Tara, and Natural Disaster Eradication Tara in 2017, 2018, and 2019 respectively. After a three year absence due to the pandemic, on January 29, 2023 at Dayi Temple, Dharma King Lian-sheng will preside over a consecration ceremony and also transmit the Adversaries-Crushing Tara, the 7th Tara of the 21 Taras and the 4th Tara transmitted by Grandmaster organized by the venue.

This Tara is extremely powerful. She is able to destroy chaos, black magic, plagues, wars, economic depression, and all other kinds of evil in this world, so that harmony, tranquility, serenity, and peace of mind will quickly be restored.

On January 29, disciples and devotees are welcome to come to Dayi Temple in Kaohsiung to participate in the ceremony and receive the powerful protection of Tara, good fortune, prosperity, and everything smooth, safe and auspicious.
Ceremony Registration
Files can be downloaded as needed for ceremony registration, primary supplicant registration, sponsorship for temple construction, and seating application for units and groups. In addition to registration at Dayi Association, registration is also available at the Dayi booth at Taiwan Lei Tsang Temple, on site at the ceremony venue, or online. To apply for unit or group seating, please download the group seating application form, fill it out and return it to Dayi Association prior to January 7. For relevant details of the Jan. 29 ceremony, please download "0129 Explanations".

Transportation and Accommodation
Overseas disciples who have questions about transportation and accommodation, arranging bus transportation from Kaohsiung to Taiwan Lei Tsang Temple (TLTT), from TLTT to Kaohsiung on January 28, or about overnight accommodations in Kaohsiung, please contact:
Heli Travel Agency Co., Ltd.
Tel: 07-251-1338
FAX: 07-216-1022
Mr. Wu Xianming: 0933-328-484 (LineID: wu09333)
Ms. Lin Xiuzhen: 0939-079-426

Organizer: Kaohsiung City True Buddha School Dayi Association
Tel: +886-7-223-2045
Fax (24hr): +886-7-223-9847
E-mail:tbsndayi@gmail.com
Union Bank of Taiwan, Kaohsiung Branch Account Number: (803)010-10-0026322 (no need to include 803 when wiring from foreign countries)
Account Name: Kaohsiung City True Buddha Sect Dayi Association
The handling fee for remittances abroad is very high, and it is recommended to use the Credit Card Authorization Form or Paypal.
Overseas fellow disciples who are going to register for this grand event please forward donations via PayPal.
Website: http://www.tbsdayi.org/index.html
If you have remittance, please notify us viatbsndayi@gmail.com or call+886-7-223-2045.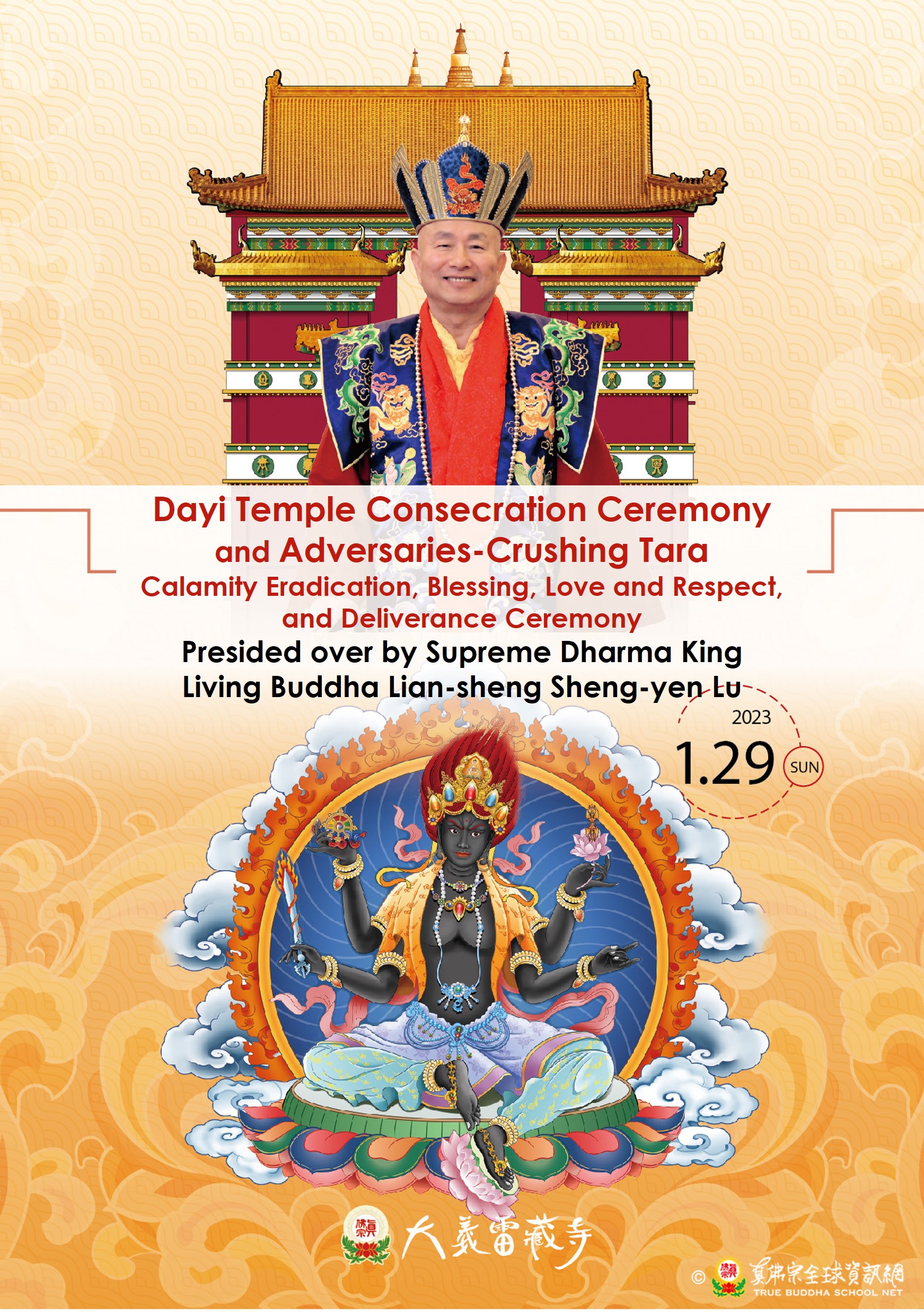 Translated by TBTTs
Translator: DJ Chang
Editor: Henry Wolf