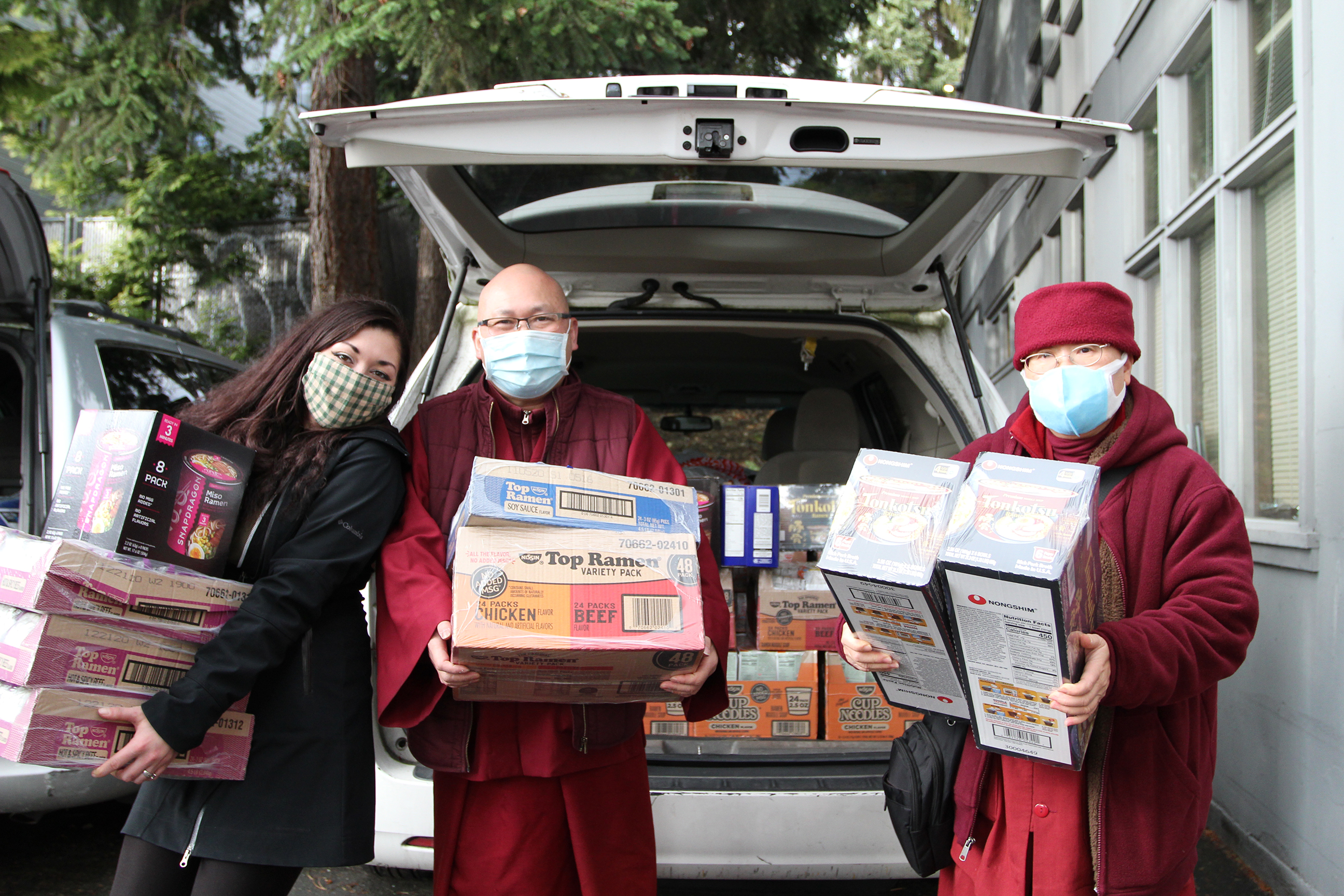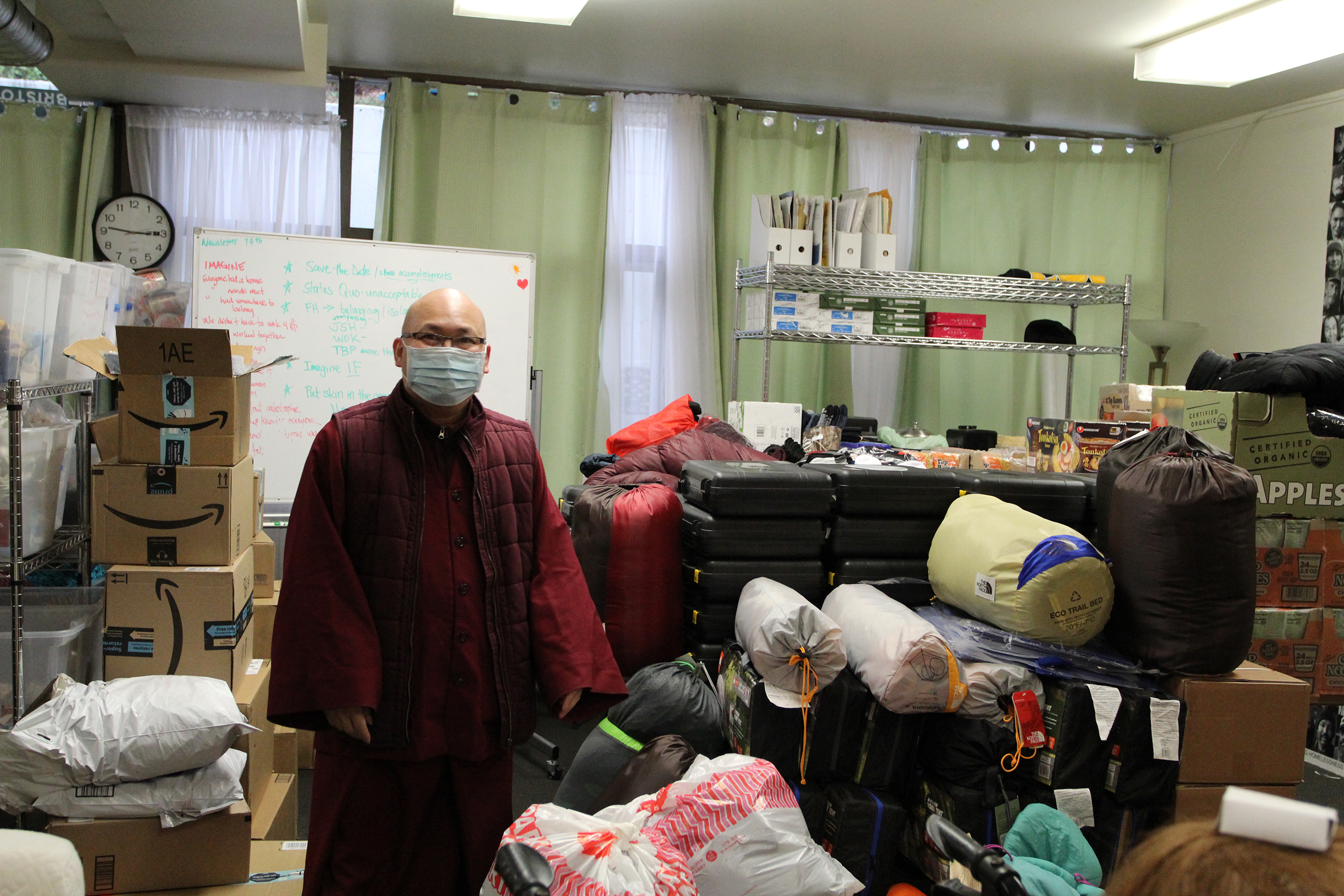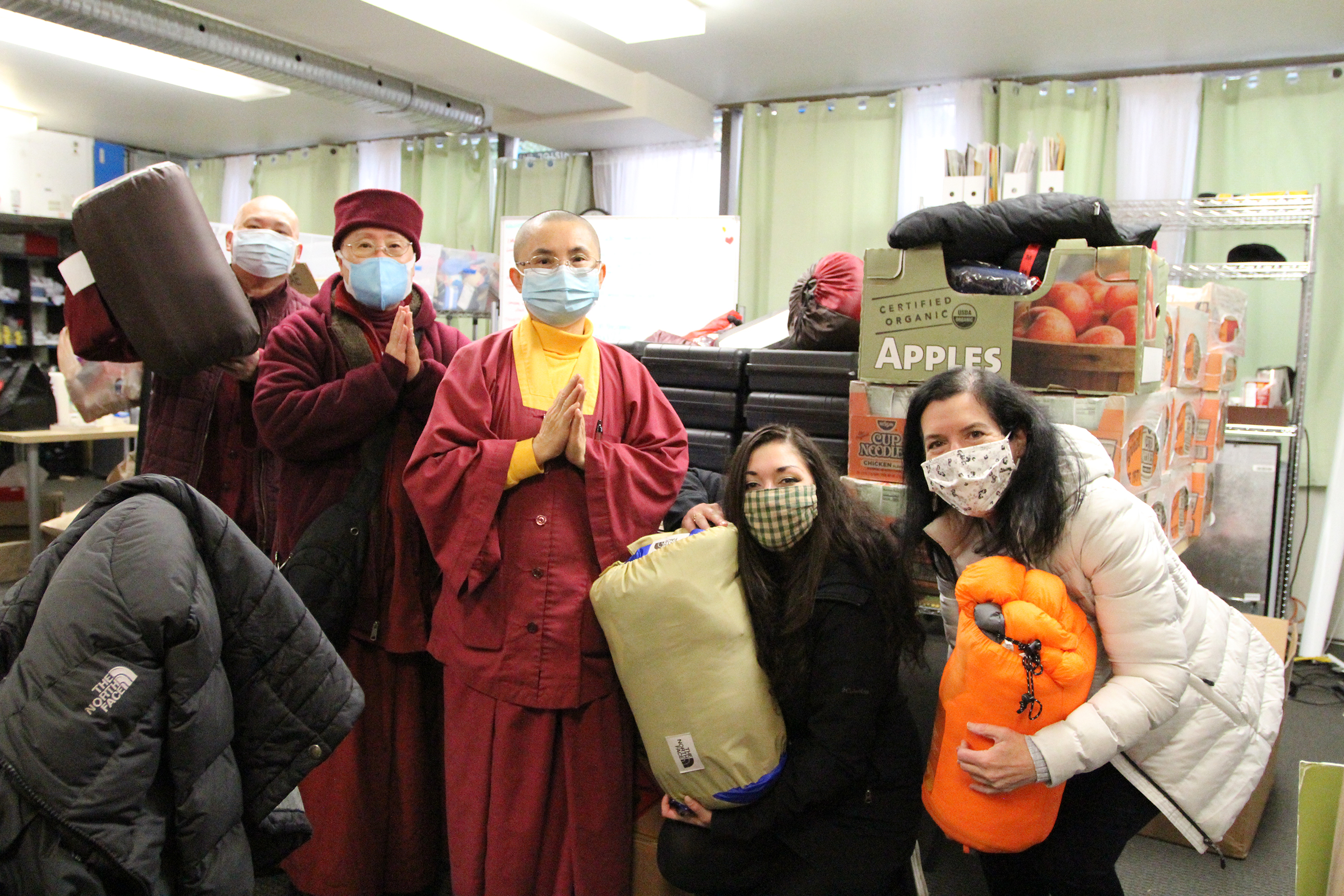 Thanks to Seattle Ling Shen Ching Tze Temple News for providing this Special Event Report:
Seattle Ling Shen Ching Tze Temple "
Winter Warmth" Donation Drive
With the approach of Christmas, Seattle Ling Shen Ching Tze Temple started a "Winter Warmth" donation drive, and today Master Lian-Hua Bi-Zhen (蓮花璧珍上師), Reverend Lian-Ling (蓮靈法師) and Reverend Lian-Qiu (蓮丘法師), together with two volunteers / dharma sisters headed to Facing Homelessness, a non-profit organization based in Seattle that helps the homeless. They brought supplies and necessities that would help the homeless and vulnerable through the harsh winter.
When they arrived, the staff at Facing Homelessness were all very happy, because through the Seattle Temple donation drive, the group had gathered and brought a variety of winterwear items, such as small gas stoves and gas cans, sleeping bags, tents, socks, clothes, plastic cloth, men's underwear, winter hats… etc., and also donated food items that would help the homeless in the cold winter to prevent hunger and frostbite.
Homeless people who seek help from Facing Homelessness, range between 18 and 75 years old, and are of all races. About 95% of them are men. Facing Homelessness is like a big family, and many homeless people in the neighbourhood would go there to meet up with friends and receive relief supplies on a regular basis.
Upholding the teachings of TBS Lineage Root Guru H.H. Living Buddha Lian-Sheng, Sheng-Yen Lu, on the great compassionate and benevolent loving-kindness of Buddhadharma, Seattle Ling Shen Ching Tze Temple also engages in philanthropic charity work and organizes a donation drive each year to gather supplies for the homeless. Many disciples also respond enthusiastically to this call and very meaningful activity, demonstrating the saying that "There is warmth everywhere in the human world."
The group returned to the temple, and a beautiful rainbow appeared in the sky after the rain, magnificent and dazzling. Like this rainbow, Seattle Ling Shen Ching Tze Temple connects compassion and love with the hearts of sentient beings who need warmth. The joy of loving-kindness and the happiness of generosity not only enrich our hearts, but also make this world a better and more beautiful place.