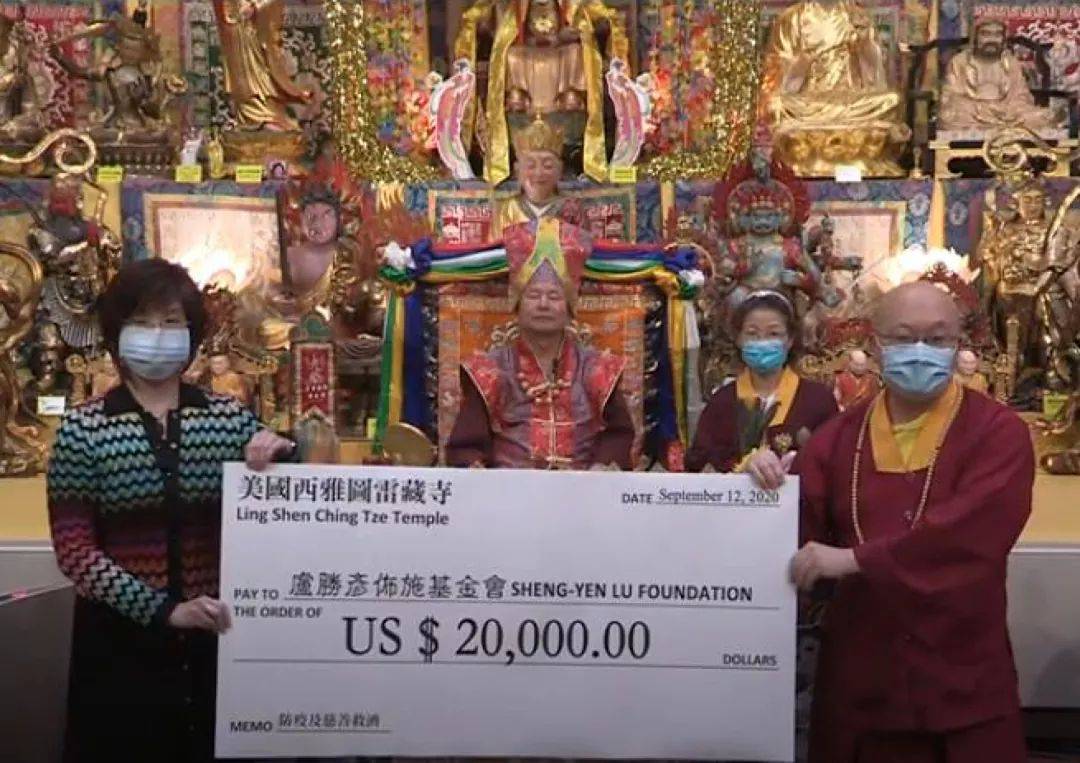 [Photo: SYL Foundation Founder Living Buddha Lian-Sheng, Masters Lian Hsiang and Lian Wang, and Susan Yang, SYL Foundation Board Member]
Sheng-Yen Lu Foundation's Ongoing Philanthropic Work in 2020
On 12th September 2020, Ling Shen Ching Tze Temple donated US$20,000 to Sheng Yen-Lu Foundation (SYL Foundation). These funds will be used to assist communities most deeply affected by the COVID-19 pandemic, and SYL Foundation is greatly appreciative of the support from the temple.
Since the COVID-19 pandemic started, SYL Foundation has been actively helping out in a variety of ways.

In March 2020, together with Ling Shen Ching Tze Temple and Rainbow Temple, SYL Foundation donated 3390 masks to International Community Health Services (ICHS). The masks were personally delivered by the President of SYL Foundation, Dr. Fo-Ching Lu and staff to the clinic, and clinic staff were very thankful as masks and protective equipment were in short supply.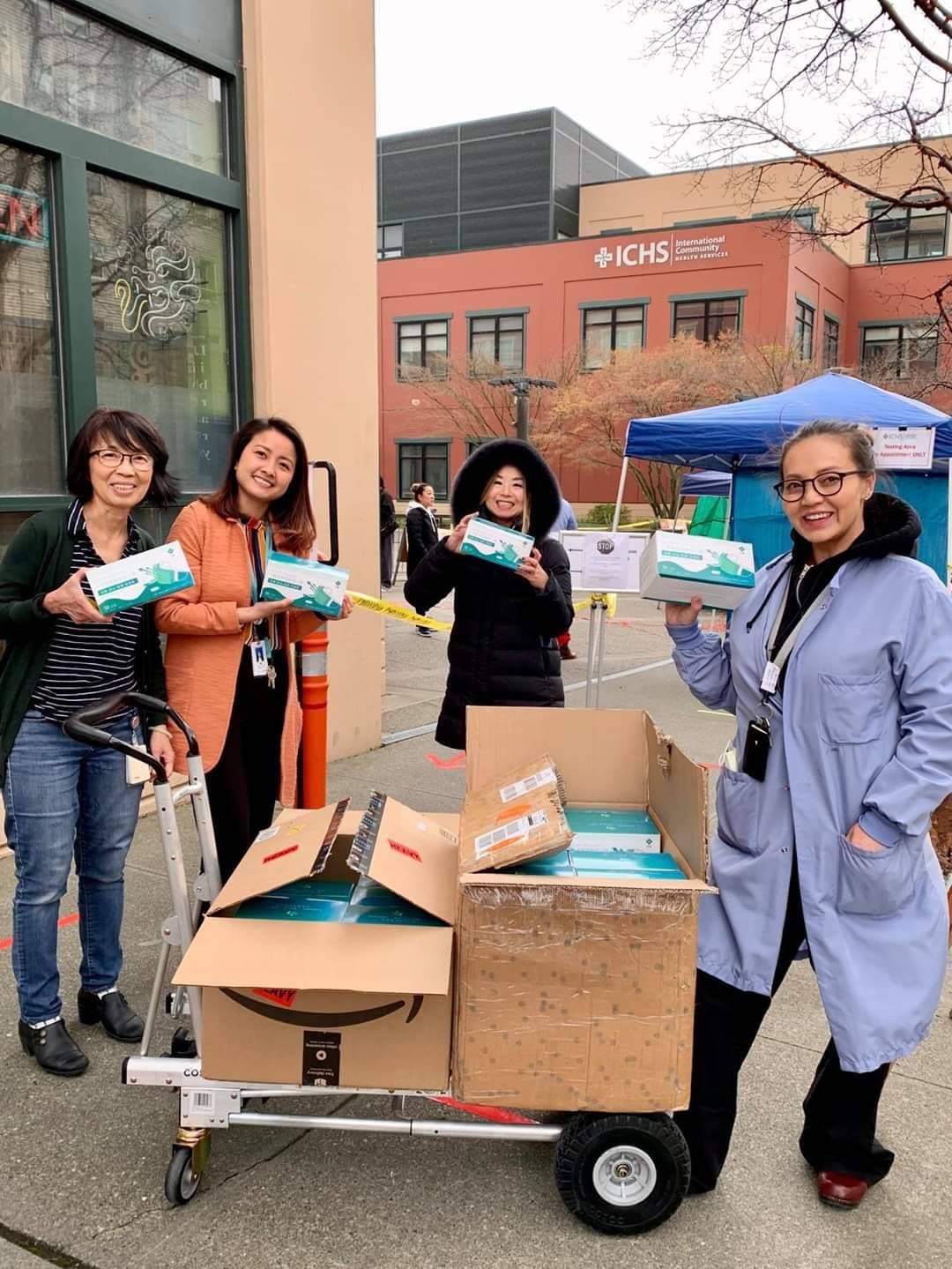 In May 2020, SYL Foundation doubled its annual grant-making budget to support non-profit, community-based organizations working to combat the pandemic, prioritizing services to immigrant and refugee communities, as these communities are especially vulnerable and lack access to critical information or are left out of federal and local government aid.
The grants are used to assist with the emergency and longer-term impacts of the pandemic, in four main areas:
1) childcare / early education for immigrant families who are essential workers;
2) community health centers providing care to immigrants and refugees;
3) direct cash assistance to immigrant workers, including undocumented workers; and
4) anti-hate and anti-bias work.
In May, together with Ling Shen Ching Tze Temple and Rainbow Temple, the Foundation had also already distributed over 15,000 medical masks and numerous protective suits to frontline health workers, including those working in Bellevue and King County.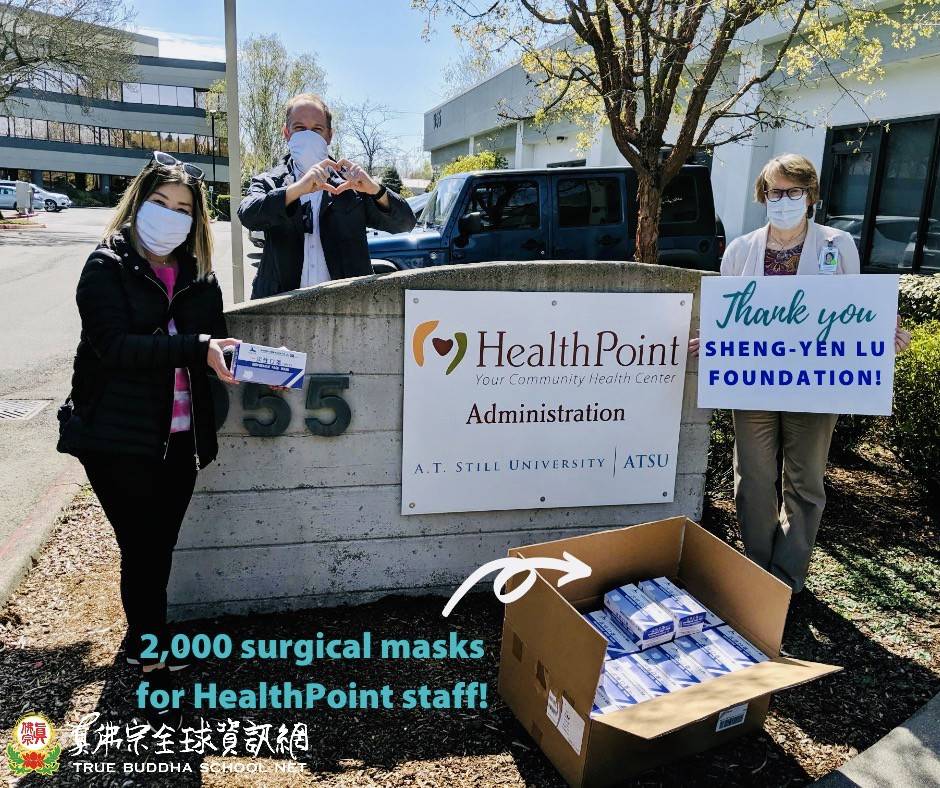 In June 2020, SYL Foundation started distributing its first round of COVID-19 Response Grants, amounting to $535,000, to provide emergency assistance to 14 community-based organizations working to address the disproportionate effects of COVID-19 on Black, Indigenous, People of Color (BIPOC) immigrant and refugee communities.
Recently, with the help of Rainbow Temple and generous supporters, SYL Foundation donated another 5,500 medical masks to farmworkers and families in Yakima Valley (an area ravaged by the pandemic), through their partner WA Immigrant Solidarity Network.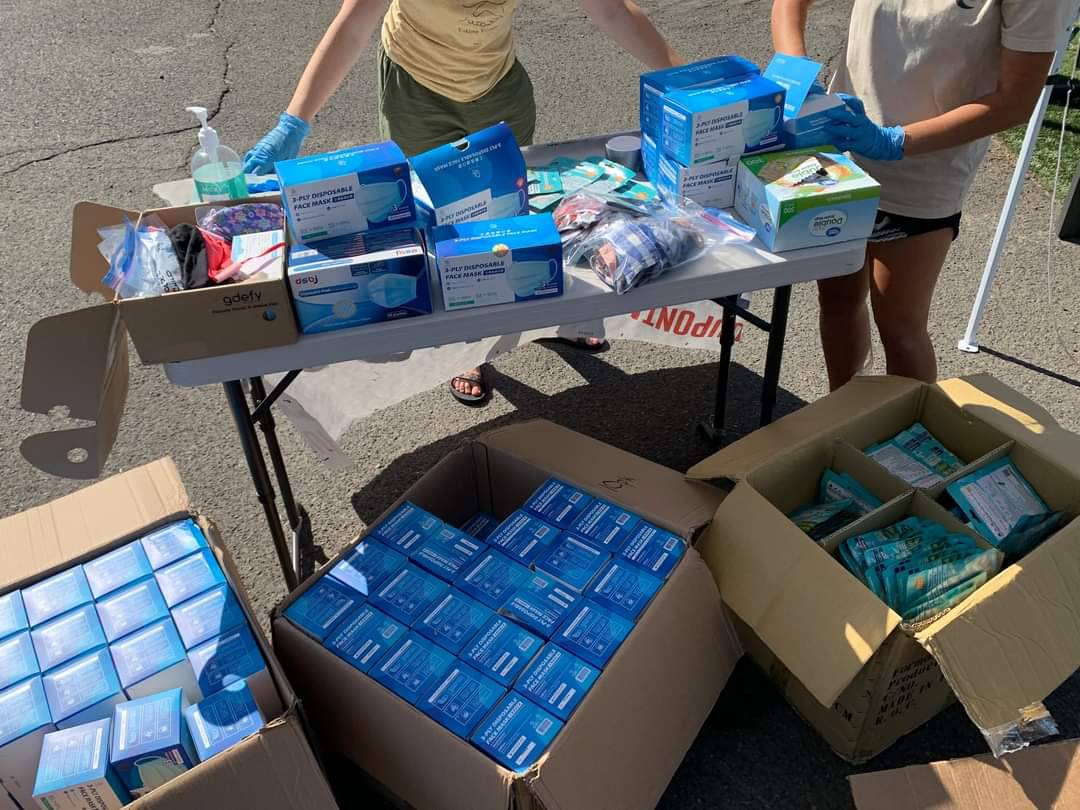 The distribution of new grants to various organizations working to address the effects of the COVID-19 pandemic has also not hindered SYL Foundation's ongoing annual awarding of Lotus Scholarships in July 2020, as well as its distribution of Health and Education grants to community-based organizations serving immigrants and refugees.
By the end of 2020, SYL Foundation estimates that it would have provided over $6 million dollars in health and education grants, scholarships, and disaster relief aid since its inception in 2008.
To learn more about SYL Foundation's work, please visit:
https://www.facebook.com/SYLFoundation/