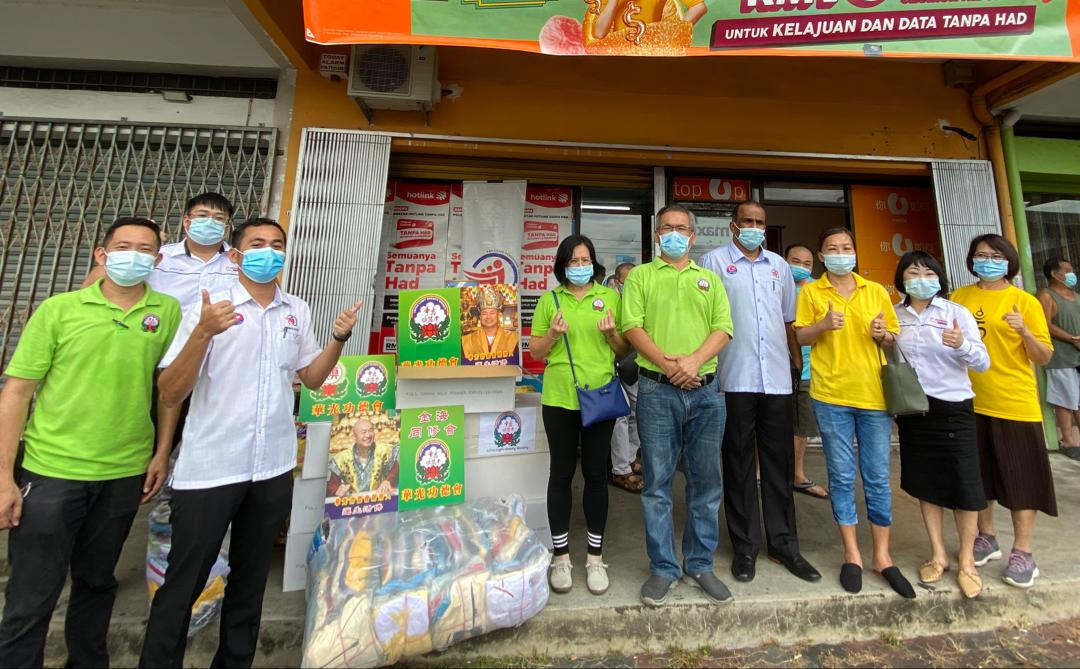 Lotus Light Charity Society (Malaysia) Continues the Distribution of Relief Gift Packs in the Spirit of Great Compassion
2020 09 05
The onslaught from the Covid-19 pandemic has increased the physical distance between people; smiles and tears are hidden beneath a field of masks. However, the spirit of great love and compassion of Lotus Light Charity Society (Malaysia) in caring for those less advantaged, and the continuous distribution of gift packs and supplies by various Lotus Light Charity Society (LLCS) branches, has instead drawn people closer together in spirit, warming hearts everywhere.
On 2nd, 9th, 11th, 12th, 13th and 15th August, during the mobility restriction period, LLCS (Malaysia) – Perak Branch continued the distribution of Lotus Light Gift Packs to the less advantaged staying at areas such as Kampung Tawas (甘榜鬥華), Jelapang (九洞), Simpang Pulai (新邦波賴區域) and other districts.
In addition, Lotus Light Charity Society (Malaysia) also donated needed supplies to the following welfare organizations:
1. Ipoh Children's Home (The Salvation Army)
2. Sekolah Semangat Maju Ipoh
3. Yayasan Latihan Insan Istimewa Ipoh (怡保慈愛遲鈍殘障訓練中心)
4. Handicap Children's Welfare Home (霹靂怡保幸運之家殘障兒童福利中心), and
5. Pertubuhan Pengurusan Pusat Jagaan 1 Malaysia, Perak (一心兒童收容中心)
On 23 August 2020, LLCS (Malaysia) Jin Hai Branch distributed gift packs to help 2 nursing homes for the elderly, Pusat Penjagaan Orang Tua Xin Shi (信實安老院) and Pertubuhan Kebajikan Shi Fang (十方安老關懷中心) in Johor Bahru. On the eve of Malaysia's National Day, LLCS (Malaysia) Jin Hai Branch and Chang Chun Branch jointly distributed Lotus Light gift packs and flags to 125 indigenous villagers in Kampung Labong, Johor.
Items donated include milk powder, white rice, clothes, flags, dry food items, pandemic preventive supplies and so on. Beneficiaries include the elderly, those in poverty, facing chronic illnesses, single-parent families, the handicapped and other less advantaged individuals facing difficulties.
Heartfelt gratitude to Lotus Light Charity Society (Malaysia), the Federation of True Buddha School Malaysia, Orang Asli Village Committee, Lotus Light Charity Society (Malaysia)'s Chairperson, dharma brother Mr. Wen Yun Lai, dharma brother Mr. Yang Dun Han, all sponsors, benefactors, and volunteers who helped to pack and give out the items, enabling the distribution of the gift packs and supplies to proceed smoothly.