True Buddha Foundation Announcement
Verification Update to Designated Account for Offerings to Grandmaster
Effective immediately, the
LINE ID
for verifying a remittance to an account designated for offerings to Grandmaster has been changed to
GIFT-OFFERING
. The previous remittance verification LINE ID c.chou5908 is hereby cancelled. The current contact name is Remittance Verification Group.
To fulfill the wishes of disciples worldwide to continuously make offerings to Grandmaster during the COVID-19 pandemic, the True Buddha Foundation, on behalf of Grandmaster, is making available an account designated for this purpose. As this account has been established for the sole purpose of making offerings to Grandmaster, disciples should kindly refrain from using it for other purposes such as donations for ceremony registration or cultivation venues.
The
Payment Detail
on the remittance receipt should be designated as "
GIFT-OFFERING
". After five working days from the transaction, the remittance can be verified with
LINE ID GIFT-OFFERING
. To verify, please provide the date, remitter's English name, and the USD amount of the remittance.
Bank account details for offerings to Grandmaster are as follows:
Bank Name :
Bank of America
Bank Address:
10572 NE 4 St BELLEVUE WA 98004 U.S.A
SWIFT Code:
BOFAUS3N
Routing Number:
026009593
Beneficiary Name:
Sheng yen Lu
Beneficiary Address :
17102 NE 40th Ct REDMOND WA. 98052 USA
Beneficiary Account Number:
1381 2709 7512
Thank you for your offerings!
Best regards,
True Buddha Foundation
Feb. 4, 2021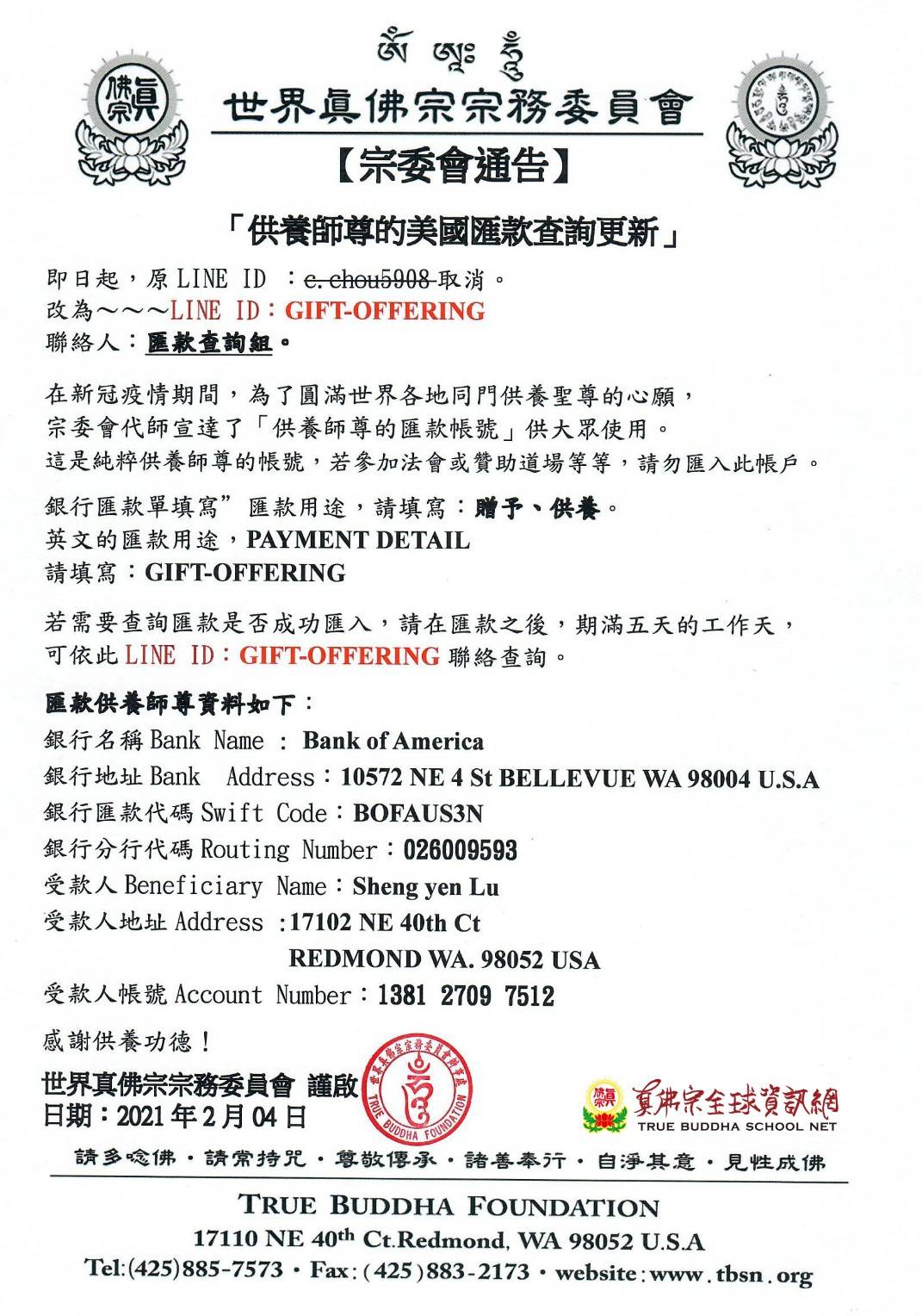 Translated by TBTTs
Translator: DJ Chang
Editor: Henry Wolf